I went to a yoga class with my friend yesterday. It was a last minute decision, and since we were so rushed to get to class, I didn't really get to fully explain the class or anything (it was her first yoga class ever). Afterwards she said she would have enjoyed it more if she knew the poses and didn't feel totally clueless as to what the yoga teacher was talking about – which is totally understandable…and which is what led me to this post.
I wanted to highlight some of the basic yoga poses that are done in almost every yoga class, so that if you've never been to a yoga class before, you sort of know what to expect. You can also do a few online yoga videos before going, in order to feel more comfortable.
The yoga instructor was super nice, and let her know that everyone starts somewhere – which is true of many things in the fitness world. So often we are intimidated or scared to start something…whether it's going to yoga, or joining a running club, or going to the gym. No one was an expert the first time they showed up to any of these things.
So anyway, here are 6 basic yoga poses for beginners
Child's Pose
I actually don't really like this pose too much, but it's a restorative pose, and one that we go into when we are taking a short break in between flows. You can go into child's pose at any time during the class if you need a break. You can either do knees together or knees apart. I like to reach my fingers out as far as possible, or you can rest your bands behind you by your feet.
Photo source
Low Push-up To Up Dog
Low push-up (or chaturanga) into up dog is part of almost every flow in a yoga class. If you're not able to do a low push-up yet (like me) you can skip it and just go into downward facing dog, which I'll talk about in a second. So here is low push-up:
Photo source
and from this pose you flow into upward facing dog:
Photo source
I have a really tough time with this flow because I can't yet get low enough in low push-up, but I am working on it! Once you're in upward dog, you will go right into downward facing dog usually, so I'll talk about that next!
Downward Facing Dog
From up-dog, you curl your toes under and then basically stick your butt up into the sky. You want to maintain a flat back. If you need to bend your knees to keep your back flat, then do so. Your down-dog should look something like this, depending on your flexbility:
Photo source
If you need to modify it, it can look like this:
Photo source
This is also used as a break sometimes in between certain poses, or as the beginning of different flows (like downward dog into lunges, etc. which I'll talk about in a second). Notice how their backs are flat and it is one straight line from their butt to the crown of their heads. That is key!
Warrior Poses
Warrior 1,2, and 3 are usually all done within a class. Definitely 1 and 2. So let's go over them. Here's Warrior 1, which is basically a lunge with your hands overhead:
Photo source
Basically, throughout any pose or sequence, you want to make sure your neck and spine are in a neutral position. You don't want to be slouching or hunched over. I always like the cue "chest up, shoulders up." Ok so moving on to Warrior 2…
Photo source
Something my yoga instructor has been saying a lot to me about this pose is to make sure your ribs don't collapse. In this pose, many people tend to bend at the ribs, instead of getting deeper into the lunge. So as you lower down, keep your ribs and spine straight up. I didn't even realize I wasn't doing this until the instructor came over and straightened me out. Only bend at the knee – it is so challenging but such a great leg and glute exercise! And here's the last one, Warrior 3:
Photo source
This woman makes it look easy! I have a lot of trouble in this pose (and any balancing pose haha). But definitely a great one, especially for runners. As always, spine and neck should be straight. Really engage your core and plant your foot down. If you fall out of it, no problem, just get back into it. In most classes I am always falling all over the place
Triangle Pose
I'm not yet flexibile enough to do this pose without blocks – which is a good point to address: use blocks if you have to! There is no shame in that. They really help get you into certain poses. Most yoga studios provide them for you. If you're unsure how to use them, you can as your instructor before class. For this specific pose, I put the block on the inside of my foot and place my hand on it for support, but those who are more flexible will be able to reach down to the floor. Always remember to hinge at the hip. My instructor says the first movement is, "reach out as if you're going to shake someone's hand" then keep reaching until you can't reach anymore and THEN hinge at the hip and lower yourself down, keeping your spine straight. If it bends at all, then you need blocks. See how this woman's torso is totally straight?
Photo source
Pigeon Pose
Ahhh, my favorite pose. I do this one after all of my runs. It's a great hip opener and glute stretch. Let me show you a few different variations. So this is full on pigeon pose:
Photo source
You can also place your head on the floor, as long as your hips stay squared off (not leaning to one side). If this is too deep of a stretch for you, here are two modifications:
Photo source
Or you can lie on your back and do it this way: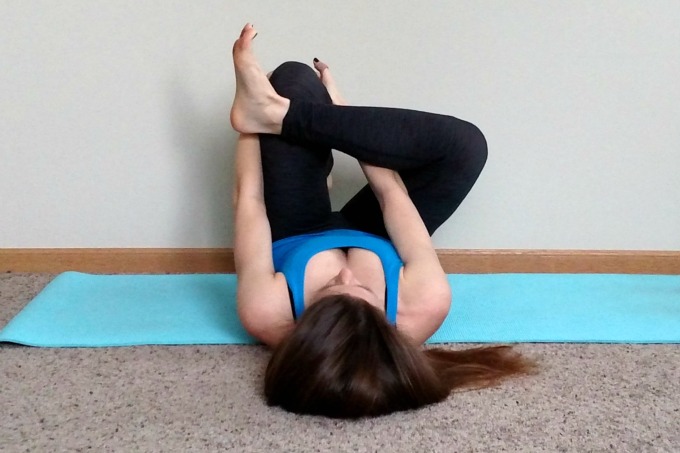 Photo source
Pull your knee in and you will still feel just as much of a stretch. Build up to pigeon pose.
So hopefully outlining a few basic yoga poses will help you before you go to your first class! Don't feel intimidated at all. Instructors are there to help you, align you and show you the right way to do each move. If you have questions, don't hesitate to ask before or after class.
Oh and every yoga class ends with you laying on your back with your eyes closed and relaxing for a bit…so enjoy!
What are your favorite yoga poses if you're a yogi?
Have you ever gone to your first fitness class and felt clueless?
*****************************
Follow Reach Your Peak: