Those of you who watched the US Olympic Marathon Trials will "get" this post, and if you didn't watch it/aren't familiar with professional marathon running, the basics are this: Shalane Flanagan and Amy Cragg are training partners, teammates, and really helped each other during a tough race.
As I was watching the race unfold, I watched Shalane and Amy run together basically the entire race.
Source
In the last few miles, it was very apparent that Shalane was struggling, and Amy stayed with her, talking to her and clearly trying to give her a pep talk. It was definitely reminiscent of my tough times during my first NYC Marathon in 2011 and Chicaggo Marathon (where it was super hot).
In the last mile or so, Amy left Shalane because she saw the third place (at the time) runner closing in. She waited for Shalane at the finish line, and ended up catching her and she fell in total exhaustion. Here's a pic: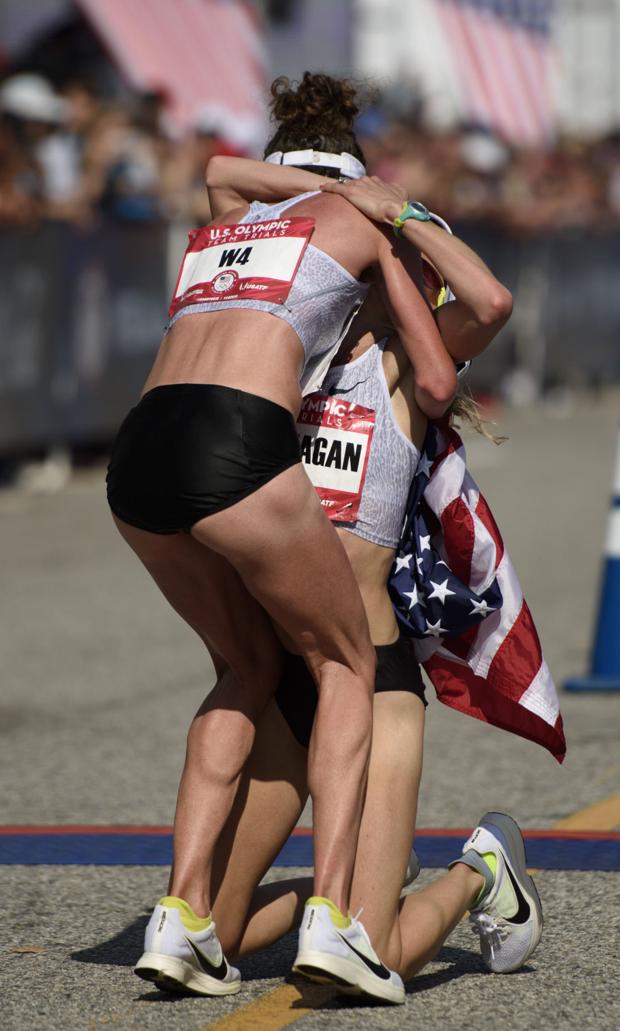 Source
After the race, Shalane credited Amy for getting her through and to the finish line. Sometimes I really can't believe the mental strength these pros have. To continue running through dehydration and getting dizzy…that takes guts.
Anyway, as I was watching all of this, I couldn't help but be grateful that my mom trains with me and runs most every step with me as well. She is my Amy Cragg. In races, when I'm bonking, she will give me pep talks and tell me to keep going and be strong.
Chicago Marathon was my worst race thus far. Yet, my mom stayed with my throughout, even though she felt fine, and helped me mentally get through it. It also pushed me harder because I didn't want to slow her down too much. I know if I was alone, I would have probably just walked the last few miles and totally given up.
People have asked me (and her), "Why doesn't she just go ahead and run her own race?" Trust me, I've told her to do that too. I always feel bad when I hold her back, but she doesn't care. She says she wants to run with me and cross the finish with me, and that it wouldn't feel the same to her if she crossed alone. Well, this is true for half marathons and marathons…shorter races = every (wo)man for herself
I have even told her to go for a BQ time (she needs 4:00) but she said she would not want to run the Boston Marathon unless we both were there together.
I really am so grateful to have my mom running with me, and it makes for amazing experiences and memories.
So I am now feeling more motivated than ever to make the 2016 NYC Marathon a great one. I want to feel strong and PR. It's in November, which feels forever away, but I'm sure time will fly and we will be in the midst of marathon training before we know it.
Runners: do you have any tips on things to do NOW before marathon training starts in July? We are currently about to start a 5K training plan to try to get faster.
Do you have a running/training partner? How do they help and push you?
*****************************
Follow Reach Your Peak: