A month or so I posted two workouts: this full body 30 minute workout, and the 30 minute workout part 2. I'm (still) working on creating an ebook with an 8-12 week workout plan that follows the outline of those workouts.
It combines strength and cardio, and I promise you will be dripping in sweat by the end of those 30 minutes! Each week will get progressively more challenging, which is what will help you hit your goals and avoid a plateau.
So today I wanted to share a printable workout log you can use to track your exercise, either with the workouts above or any workout you do in general. We all know it's important to keep track of your workouts – it helps you see how you improve over time and get stronger, as well as make notes of how you felt on a certain day, injuries, etc.
You'll see you have 5 sets listed (not that you need to do 5 sets but I just wanted to give you enough room), as well as boxes to list your weights and reps. For example, even though my 30 minute workouts are AMRAP (as many rounds as possible), you should still be keeping track of how many rounds and reps you do. If in those 7 minutes you only do 2 full rounds and on the third you only get a few reps of an exercise, mark that down. The following week you might complete 3 full rounds, which will show you that you have improved.
It's important to list the weights you use as well. Not only to remember what you used, but also so you know when to increase your weights. If you have been using 5 lbs. for 2 weeks, perhaps try increasing to 8 lbs. If you need to decrease after a round, that's fine, just make a note of it. Then, the following week, start with 8 lbs again and try to get further with those 8 lbs. before you decrease back to 5 lbs. Does that make sense?
Here's the log:
Or click here to download as a PDF and print –> Printable Workout Log
Do you use a log, write things down in a notebook, or use your phone to track your fitness?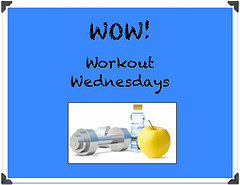 *****************************
Follow Reach Your Peak: