It's finally Friday! Although, I've been sick with a cold for the past 2 days and today is definitely the worst day so far…but hopefully I will be feeling better before Superbowl Sunday.
Anyway, today I wanted to talk about bodyweight exercises-specifically, my favorite ones.
Many may think that since you're only using your body weight that you can't get stronger. Actually, bodyweight exercises can help you get stronger in your lifts. Some of these don't require equipment, and some you probably will have to do in a gym.
Here are a few of my favorites:
Squat
There is so much you can do with a bodyweight squat. You can do straight sets of just squats, or you can add in cardio by incorporating squat jumps. They get your heart pumping because you're using major muscle groups. Just remember to engage your core as well!
Push-ups
Whenever people hear bodyweight exercises, they probably think of squats and push-ups. Increasing the number of push-ups you can do can help your strength in lifts like bench press or shoulder press. Here are my tips on how to get stronger at push-ups.
Inverted Rows
You can do this at the gym using a railing, or using the smith machine (or squat rack). You can really do it anywhere. It's a great back exercises and really tough. Do it with palms facing forward to target more of your back, or with palms facing in to use more biceps. If you have a TRX Suspension Trainer
, then you can do all sorts of inverted rows!
Negative Pull-Ups
I credit negative pull-ups to helping me be able to do unassisted pull-ups. They are really tough but so worth it. I like doing these better than doing pull-ups on an assisted machine. Start at the top, and slowly lower yourself down. Start with it taking you 3 seconds to lower, and work your way up to 10 seconds on the way down.
Plank
The great think about the plank is that you can make it as challenging as you. You can start with basic plank and work your way up to holding it for a minute, and then you can do all sorts of things. You can do a plank with 1 leg in the air, or opposite arm and leg in the arm, or superman plank where you extend your elbows further out in front of your head to make it extra hard.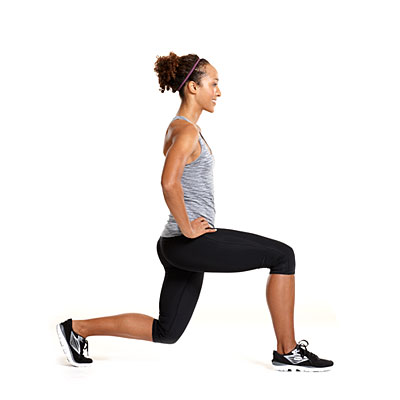 Walking Lunge
Another great lower body exercise. This hits your quads and glutes, and you'll definitely feel the burn even without using weights. Recently I've been doing walking lunges as a finisher on my leg days. Talk about jelly legs…
Just make sure to keep your core tight throughout the whole movement, and go slow.
If you have access to a gym, then you can certainly add weights to a few of these to make it more challenging. If you want to get stronger and pull-ups, I highly recommend trying negative pull-ups and inverted rows.
Which of these is your favorite?
Can you do unassisted pull-ups?
*Disclaimer: I'm part of the Amazon Affiliate program, so the TRX link is an affiliate link. If you decide to buy it, it just sends a few cents my way to help support my blog
********************************
Follow Reach Your Peak: