The Big Chill is a 5K at Rutgers University that happens every year in December. Instead of a registration fee, runners bring a toy which is then donated to children in New Brunswick who may have otherwise not gotten a gift for present. Every year thousands of runners participate, and thousands of toys are donated to children. It's an overall great, heart-warming day…and it's awesome to see all of the toys on the stage post-race. This year marked the 10th anniversary of the Big Chill.
This would actually also be me and my mom's last 5K of the year! We were shooting for PRs but unfortunately, that didn't happen. It's okay though because it was such a fun day!
The race was at 9 am, but I was there at 7 am to work for our marketing team. I was used to being up that early since we get up around 5:30 for NYRR races too (at least that's over with for this year). My friend Courtney met up with me before the race so that we could run together too. We lined up at the starting line around 8:45 with over 7,000 other runners.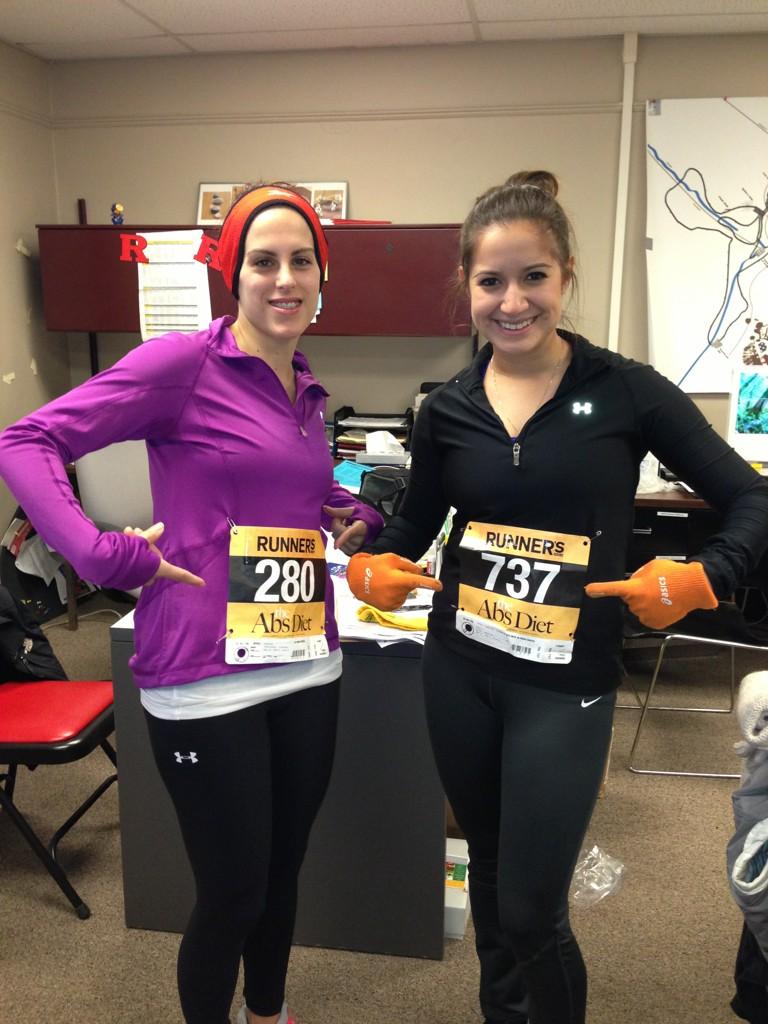 Isn't that a crazy amount of runners?! I love it. We lined up towards the front because we didn't want our time to be delayed. We also were allowed in a corral towards the front because we noted we ran a 5K in under 30 minutes.
The gun went off and we crossed the starting line in probably under 10 seconds. I felt awesome the first mile. The first half of that mile was downhill, and the second half was a slight incline. We got to mile 1 in 8:20.
I honestly felt that from that point on the whole race was on a slight incline! I knew I slowed down in mile 2, which we did in around 9 minutes. It was hard keeping a consistent pace around corners and stuff when there are so many runners. I knew it would be hard to PR at this race but I figured I would try!
At mile 2 I tried to pick up the pace but just couldn't. My quads were burning. Lifting and doing squats/lunges on Wednesday was a bad life decision! We were still moving at a good clip though so I resigned myself that I wouldn't get a PR but would just try to do my best.
Half a mile away from the finish I honestly wanted to walk. My quads have never burned in races before, so I really think it's because I did some strength training that week. Courtney felt a lot stronger than I did so I told her to go ahead without me. I wanted to walk, but I mustered up the strength to keep running as fast as I could, and repeated the mantra "I Run This Body" which Dorothy from Mile-Posts came up with. Seriously, if you need some positivity and motivation check out her blog.
Anyway, I didn't end up walking, and ran as fast as I could in the last 100 meters to finish in 26:50. I was glad I finished in under 27! We got some goodies at the finish line, like a mug, lanyard and lunchbox. I always like free swag. We headed inside to stretch, get water, and fill up on the post-race food. Bagels and chocolate chip cookies? Get in mah belly.
Overall it was a great day! The weather was perfect (close to 50), the runners and walkers all had a blast, and it was so amazing to see all of the toys collected.
You can see all of the presents on the stage at the top of the picture. There were probably 7-7,500 runners, if not more, which means that many presents for children in need! Runners and walkers are also well taken care of with cool swag, shirts, food and raffle prizes such as an iPad mini and Kindle.
I definitely plan on running again next year!
If you're a Rutgers student, alumni or just live in the area, did you run the race? What did you think? Make sure to follow Rutgers Recreation on Facebook and Twitter for more info on future events, pictures from the race, and more =)